In this 3rd of 7 Player Previews we take time to get caught up with rising sophomore, Cyrus Largie.
If you're not caught up on the previous 2 installments in the series, you can access those below. You can also view our articles featuring newcomers to FGCU Men's and Women's basketball.
Cyrus Largie has to be one of the most intriguing players heading into this upcoming season. By now, his story of walk-on, to starter, to scholarship player, is well known by those who follow the team. As a freshman walk-on, Largie showed enough hustle, grit, and skill to earn minutes early in the season. As the season went on, he played more and more, and eventually found his way into the starting line up. Largie played in 25 games, making 4 starts. On the season he averaged about 4 points and 2 rebounds per game, while shooting a scorching hot 56% from 3. Those averages increased as the year went on. Toward the end of the season, Largie gave a glimpse of the type of player we could see this upcoming year, now that he is on scholarship and projects to be an integral piece of the team. In the final 4 contests, he averaged 10 points and 6 rebounds, while maintaining a perimeter shooting percentage above 50%. His unlikely ascension led to him being awarded a scholarship designation going forward.
What Largie did in his freshman season is nothing short of spectacular. Head Coach Michael Fly offered his perspective.
"A year ago, he didn't know if he would ever step on the floor. I've never seen a guy do what he did. Obviously we were injured, we were young, and it wasn't a great year for us. In a normal year, would he have had this opportunity? I don't know. He went from a freshman walk-on and a guy that I never planned to play unless we were up by 30 or down by 30, to a guy who we ran plays for in big moments at the end of the season.

Michael Fly
So how does a guy like Cyrus react amidst an off-season filled with uncertainty? By continuing to work hard and improve his game, of course. Coach Fly stated:
"He has cut his body fat a little bit and he toned up. He had a very good summer and he's continuing to work on his jump shot and speeding up his release. As good of a shooter as he is, he's a bit of a set shooter that needs some time. If he's playing on the perimeter more, he's gotta be able to get that shot off quicker."

Michael Fly
Largie reiterated this, saying:
"I have been doing really well, believe it or not, given the circumstances that we are in. The off-season was really good for me. It feels amazing to be back in the gym with my teammates after not seeing them. I have been working on improving my shot and ball handling this off season. There are always ways to improve and for me, I want to get my overall game better and just improve each day."

Cyrus Largie
Based on Largie's play from last season, he looks to be an extremely well-rounded player and that is achieved through hustle.
"We have a phrase in the program and that's "Cy (is) gonna Cy". That's because you know every day what you're going to get from him. He's going to win every sprint and go for every loose ball. The second you don't give him enough attention on defense, he's gonna shimmy by you and lay it in. You turn your head for one second, and he's tipping it in and rebounding. He's just a guy that, when he's on the floor, I feel confident and everyone of his teammates do too. You never have to question what you're gonna get from him night to night."

Michael Fly
This sentiment was reiterated by team captain and leader, Caleb Catto, in a tweet recently. Largie has won the "GloveUp" award for the second time since the team rejoined each other. The award is given, weekly, to the player who shows the most "hustle, toughness, and unselfish play" through a week of practice.
"[The] dude just works, makes all of us better, and is as humble as they get."

Caleb Catto
From an outside perspective, it looks like nothing has changed for Largie. He's still working the hardest and setting an example for his teammates. But if you ask him, he would say differently.
"The big difference between last year as a freshman and a walk-on, and this year as a scholarship player, is confidence. I am confident going into this year and I know I can achieve the goals that I have set for myself."

Cyrus Largie
Coach Fly finished by saying:
"At this point, with a scholarship, it's really up to him how big his role is on the team. I think that realization has put him in a different mindset. Cyrus [Largie] represents everything that is right and good about our program, on and off the floor. He is a winner in life."

Michael Fly
Cyrus has an opportunity to really break out this year. It cannot be understated how much hard work it took for him to impress coaches enough to the point where he was given minutes over players who had been invested in financially (scholarship players). A story like that is special and only comes around once in a blue moon. Based on his performance on the court last year, Cyrus excels in really every area of the game. With an offseason as a scholarship player and a (somehow) heightened sense of motivation and drive, Largie will be one of the most interesting players to watch going forward.
To stay up to date on articles, podcasts, and more, follow us on social media!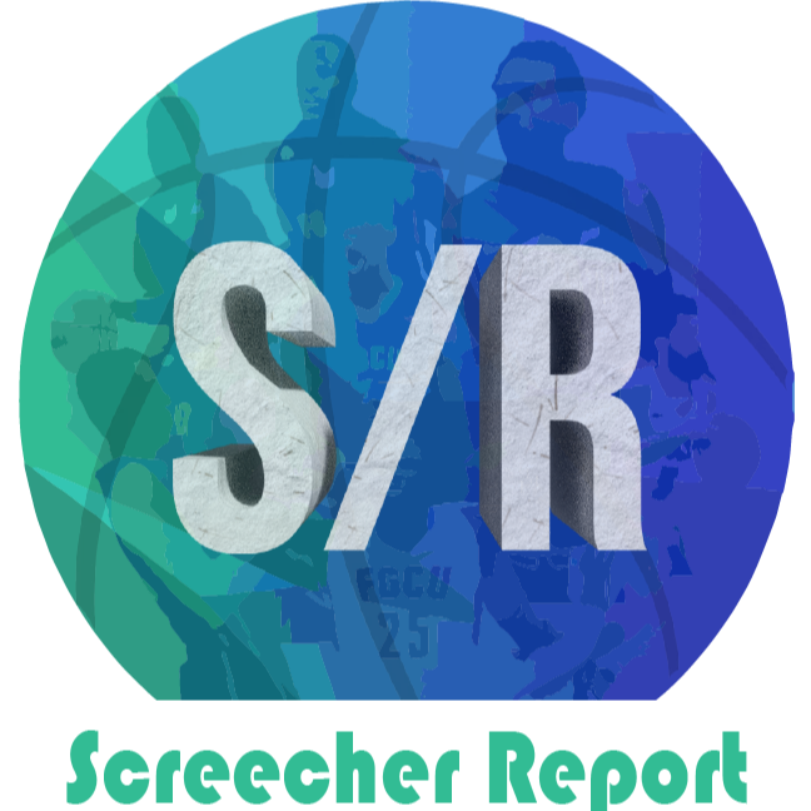 Ep. 56: FGCU Falls to UNA and Discussion of Recent Struggles
–
Screecher Report
Russell and Elliott are back and hoping to do their part to help the team during this rut that the Eagles have found themselves in. FGCU is 1-7 since the last S/R episode dropped so the fellas are looking for the tides to turn. They discuss the equally devastating and fun, OT loss to UNA, and the team's overall struggles. Listen in and tell your friends! Wings up and go Eagles!