For this edition in our Fresh Faces series, we will be focussing on incoming transfer, Dom London. We will be taking a deep dive into his journey to FGCU, starting with some humble beginnings. But first, be sure to check out the first 3 installments in the Fresh Faces series, discussing freshmen newcomers Zach Anderson, Luis Rolon, and Victor Rosa.
Dom's story starts in a small, Pennsylvania town of about 1,200 called Christiana, a little over an hour west of Philadelphia. He attended a similarly small high school program at Octorara and played under Coach Gene Lambert, who still holds that position today. Coach Lambert offered his take on Dom during his high school playing days. "Dom was one of the top players in the league his senior year. He averaged 29 points per game but we were very young around him and only won 9 games. Dom played AAU ball for the Jersey Shore Warriors and that led to some interest from the Division 2 and 3 level."
One would think that averaging 29 points per game would garner more interest, regardless of school size and team success. "I think D-I schools didn't get to see his athleticism and skill showcased in a way that they felt would translate to that level. On top of that, school work wasn't necessarily Dom's top priority as a freshman and sophomore. He matured and turned his academics around completely as a junior and senior but it wasn't enough to qualify for a D-I offer at that point."
With few other options, London strongly considered D-III programs. "[He] was really looking into going the D-III route and there were a couple of great college programs on that level that he had interest in. I have a team that plays in the Donofrio Classic Tournament where I pick from local talent and we compete. Dom was with me and we played against a team that had Donta Scott (now a starter for the University of Maryland). Dom had a great game. Coach Drew Kelly from Harcum (JUCO) came over after the game and offered him a two year scholarship to play for them."
Coach Michael Fly shared insight on this as well. "Dom played for a very small high school program and rarely competed against [eventual] D-I caliber players. The only recruitment he had was from D-III schools. Harcum Junior College came along and said 'we think you're better than a D-III guy, why don't you come to Harcum and see if you can improve your recruitment'"
So London chose the JUCO route in order to continue elevating his grades as well as his play, all in search of an elusive D-I scholarship.
Harcum
London's success at Harcum is obvious but it wasn't always a guarantee. Dom still had work to do and people to impress. Coach Lambert stated that "the talk [that was going around] his freshman year was [that he might] redshirt. After coach Kelly got to observe Dom for a longer period of time, he ended up starting him and made him a captain by the end of that year."
Coach John Ball (an assistant at Harcum) echoed a similar sentiment. "From the first moment [Dom] stepped into the gym, he 'bought in' to us as coaches. He did everything we asked of him, on and off the court, which helped him quickly adapt to the college game."
Coach Fly recalled London's freshman season at Harcum, saying "[he] had a really good freshman year. He shot the ball well, averaged double figures, and became a starter and a leader by the end of that first year."
From there, London exploded into one of the best JUCO players in the country as a sophomore. Coach Ball talked about his big sophomore season, saying "Dom was a huge part of our team. We want to play fast and shoot a lot of 3s. His skill set and ability to shoot the ball really opened up the floor for his teammates and we had a lot of success. He really took his leadership to the next level and really willed us through the last few games when a lot of our other main guys were injured."
London went on to make the NJCAA All-American team while earning a 3.7 GPA, and averaging 15 points per game. With all the individual and team success, those long-awaited D-I offers finally came pouring in.
Among the first to notice London for these talents, was Michael Fly and the FGCU coaching staff. Per Coach Fly, "[Assistant] Coach [Donnie] Marsh and I saw him at a JUCO event in the summer (2019). [We liked what we saw and] Coach Marsh had him circled and we made him a priority. [Pretty soon] his recruitment went from very little, to over 20 D-I offers in 2 weeks. Either me or Donnie [Marsh] were in Philadelphia once a week until he made a decision. Dom went on to have a really good season and ultimately chose us."
The Dream
London will now head to FGCU to play out the final 2 years of his college career as a D-I scholarship player. Doing so fulfills a dream and a goal that has followed him from his days at Octorara. But the completion of a goal sprouts new aspirations. Ones that London will surely set out to fulfill as an Eagle. So what sort of skills and traits does London bring to the table, on and off the court? Coach Ball feels that "Dom's best traits on the court all come from his positivity. He always has a great attitude and plays really hard. It's contagious and everyone else on the court feeds off of it. Dom's number one skill is his ability to shoot and shoot DEEP. [He's] a combo guard that can bring the ball up and initiate offense, but he can also play off the ball and come off screens for catch and shoot 3s. His ability to shoot draws attention from the defense even when he doesn't have the ball, so he makes the rest of the team better. [Off the court] FGCU is getting a player who is constantly working to get better and constantly trying to work on his body. Dom is an excellent student and a terrific young man. He's a winner through and through"
Coach Lambert added that "[on the court] he is a leader, both by example and with his voice. He isn't afraid to say when someone isn't working hard, but he's also the first one let a teammate know that they will be successful next time. He is a scorer, he can shoot with the best of them. [Dom] works really hard on trying to get better everyday. Coach Fly will have to kick him out of the gym. He loves the game and understands, that he should use Basketball and not let Basketball use him. Off the court, he will be a plus to the community and those around him. He has always been a person that people gravitate to and is willing to be a good person and effect positive change."
London joins this recruiting class as the only JUCO player. This comes a year after FGCU welcomed 3 JUCO guys (Jalen Warren, Justus Rainwater, and Sam Gagliardi) to the team last summer. In the past, Coach Fly has stated that it can take up to 6 months for a JUCO guy to truly transition to D-I play. Even so, last season, the short-handed Eagles had really no choice but to rely heavily on those guys early on. With a season under their belts, they are now set to be seniors and leaders on the team this year. Similar to most of the other newcomers, Dom will have the benefit of roster depth around him. There is enough experience from the returning players to allow him to develop and acclimate to the increased speed of the game. In theory, there is a wide open guard spot in the starting rotation next to Caleb Catto and Jalen Warren. London and a handful of other players will have a shot to earn that spot, rather than be thrust into it by necessity.
In such an unpredictable off-season, one constant is the narrative that London possesses a strong sense of work ethic and character that will translate to success at any level. Dom has had a positive impact on each program he has been a part of. Coach Ball at Harcum says "[he] has been one of the easiest young men to coach. He really wants to get better. He's always asking questions and trying to understand the game on the deepest level. He's extremely coachable and just a great teammate. It's bittersweet for us because we would love to continue to coach him for another 2 years. But we are so happy and proud of him to achieve this dream of playing D-I ball. We can't wait to watch his next 2 years at FGCU."
Coach Lambert spoke of London's character as well. "Dom makes it easy to be in his corner. He's a very genuine, caring, and hard-working young man. He wants to be successful and understands that, to do so, you need other people's help along the way. [Because of that] he is very coachable. He also sees the value in helping others on and off the court. He volunteered at my youth camp and did a great job helping the young players in the community to get better. I'm so proud of Dom and grateful to have played a part in his journey so far. I could talk about Dom for a long time. I've known him since he was in 5th grade so I've had the opportunity to watch him grow and mature into a very good young man. His family is as good as they come and his parents have done a great job of raising a good kid."
And already, London has made a great impression on Coach Fly. "He's a 3.7 student and a was a leader at Harcum. They can't say enough good things about him. Basketball wise, we think he can step into a role as a shooter and a playmaker. But we are equally excited about the intangibles he brings off the court."
Another newcomer, and another high character guy who has had a lot of success. The mantra that has been echoed since the hiring of Coach Fly has stressed the desire for these types of players. Heading into the third year of his regime, these words are truly reflected in the acquisition of these newcomers. For London, hard work and high character will never be an issue and will help him on his way to making an impact with FGCU.
Stay Tuned
Be sure to follow Screecher Report on social media to stay up to date on articles, podcasts, any new content regarding FGCU basketball! Listen here on the website or on all major music streaming platforms (Spotify, Apple, Google, etc.)!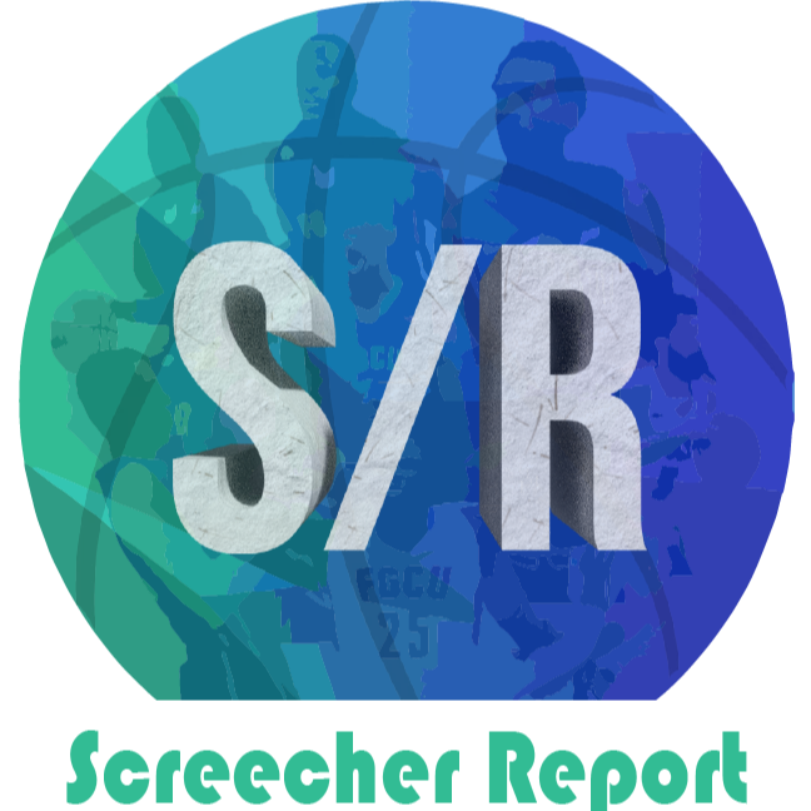 Ep. 56: FGCU Falls to UNA and Discussion of Recent Struggles
–
Screecher Report
Russell and Elliott are back and hoping to do their part to help the team during this rut that the Eagles have found themselves in. FGCU is 1-7 since the last S/R episode dropped so the fellas are looking for the tides to turn. They discuss the equally devastating and fun, OT loss to UNA, and the team's overall struggles. Listen in and tell your friends! Wings up and go Eagles!