For the 3rd installment in our Fresh Faces series, we will be getting more acquainted with incoming freshman, Victor Rosa out of Central Pointe Christian Academy (CPCA) in Kissimmee, FL.
If you haven't yet done so or you need a refresher, check out the first 2 installments of the Fresh Faces series, where we took a look at fellow newcomers, Zach Anderson and Luis Rolón. Also check out our blurb on incoming transfer, Eli Abaev, in our first Summer Flyer.
The Man
Victor Rosa joins the Eagles as a freshman out of CPCA. He has been classified as a 3-star player per Verbal Commits (VC) and Rivals. Per 247 sports, he is the 2nd highest ranked freshman to commit to the FGCU in the history of the program. To inform us about Victor's road to FGCU, we sought the expertise of his high school coach, Richie Dalmau. As stated in our last article, "Dalmau has had an illustrious career to this point. As a player he garnered Puerto Rican National Team honors and participated in several international events, including the 1996 Olympic Games. But Dalmau has also been a star off the court (He's literally the guitarist in a band called Sueño de Hormiga, seriously, look it up). Dalmau has found success as a coach, putting a small school (under 300 kids) like CPCA on the map. In the last few years, CPCA has become a hotbed for D-I recruiting and a consistent threat to win a state title."
The Foundation
Of course, Rosa wasn't always the player that FGCU will be getting this fall. He developed his game while at CPCA. Per Coach Dalmau, "I coached Victor for 3 years. When he came to us, he was simply a catch-and-shoot guy. He started working on coming off screens to get open and also improved his iso moves. He came in as a good, natural shooter but worked on expanding his range even further. At first, defense was his weakness but, over time, he developed into one of our best defenders."
The Skills
Rosa seems to have a natural shooting stroke, but also showed the ability to improve other areas of his game. A well-rounded player is ideal, but it's clear what his bread and butter is. Per Coach Dalmau, "Victor is an amazing shooter, but it's not just that. He also shoots the ball [extremely] fast. His release is maybe faster than anyone I've seen and his range is limitless. He has so much confidence in his shot." Rosa also possesses valuable size for a perimeter player. "Victor definitely has an advantage at 6'5″, especially when you combine that with a quick release. That length allows him to be a good rebounder too."
The Recruitment
In an era where outside shooting is at a premium, it is no shocker that a lot of schools would be interested in Rosa. Specifically, he received several offers from Power-5 schools and strong mid-major programs including Austin Peay, Wake Forrest, Arizona State, Oklahoma State, and Virginia Tech. Coach Michael Fly detailed the recruiting process stating "[I went to see] him as a junior and we offered him a scholarship on the spot. He can really shoot the ball at a high level and, at 6'5″, has been a high level shot maker throughout his career."
With Rosa's skills and the attention he received from some strong, high-major programs, it seems unlikely that FGCU would have been able to land him. Coach Fly explained further, "Once we watched and evaluated him, there were a bunch of other programs that came in and offered him. We got the feeling that he and the people around him were set on the highest possible level for him. We kept a relationship but didn't necessarily think that Victor was a realistic guy on our board. As we started courting Luis as well, we made it known to both of them that we didn't want one of them, we wanted both of them. I think that helped us a lot in getting Victor to commit."
The Potential
So what kind of player will FGCU be getting early on and what kind of player can Rosa become? Per Coach Dalmau, "[Victor] played shooting guard for us mostly and I think that's his natural position at the next level too." But even more exciting, "Victor is a 3-point machine. He will have a few games early on where he hits 8 threes and maybe more down the road. You can write that down."
In a conference that so often features teams that rely heavily on the 3 ball, FGCU has typically played a different brand of basketball. The years under coach Dooley had a defensive focus with a more calculated approach to offense. Of course many 3-point shooters have come through the program. A successful shift back to the way Coach Fly wants to play will feature risk-taking defense leading to fast break 3s and lobs. Victor Rosa will, of course, benefit from that and could develop into a key outside threat for the Eagles.
The Brotherhood
Our most recent Fresh Faces installment featured Luis Rolón, also out of CPCA. It is extremely rare for high school teammates to end up on the same collegiate team. The hard work and persistence of Coach Fly and his staff made that possible and now they can reap the benefits of having two freshmen enter the program with built-in chemistry. To illustrate this phenomenon, Coach Dalmau stated "Victor and Luis have so much chemistry on and off the court. They are like brothers. They know each other so well and it shows on the court. Victor knows where to be every time Luis decides to attack the basket. And Luis always knows where to find Victor and helps to get him open. It is such a joy to watch those two playing. They can really be one of the best one and two combos in college basketball."
The Conclusion
FGCU has a long tradition of tall, lanky players with the skills of a guard, who possess enough size and defensive ability to play the 1-3 spots. Christian Terrell and Caleb Catto are examples of this as they each possess(ed) these traits. Currently standing at 6'5″ and about 175 pounds, Victor Rosa fits this bill tremendously. Similar to his high school career, Rosa will likely find his niche as a 3-point, catch and shoot type player early on before developing. With Warren and Catto as locks to start, that leaves only 1 guard spot open for competition this year. Rosa has a chance to compete for this spot even as a freshman, especially as he will be surrounded by upperclassmen and able to learn and develop on the fly. Still, the benefit of having a much more experienced team than in the recent past is that young players are able to develop at their own pace. If he's ready, Rosa will get every opportunity. If he needs time, he will be able to set his own pace. It is great to have a player with these skills and it will be rewarding to watch him develop into a threat for FGCU. But for now, Rosa serves as the bow on the top of this incoming freshman class.
Stay Tuned
Be sure to follow Screecer Report on social media to stay up to date on articles, podcasts, any new content regarding FGCU basketball! Listen here on the website or on all major music streaming platforms (Spotify, Apple, Google, etc.)!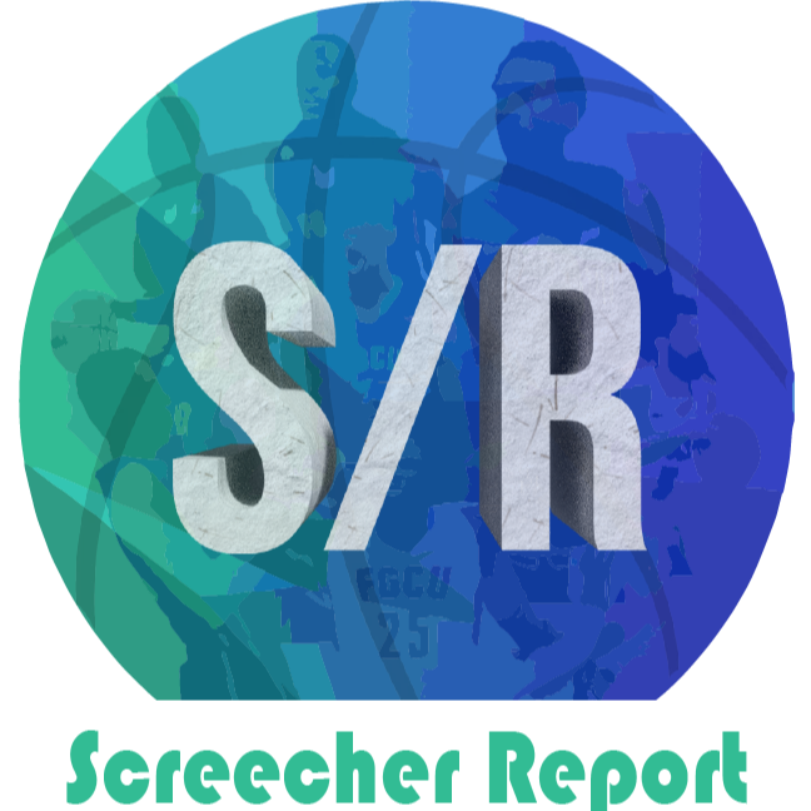 Ep. 56: FGCU Falls to UNA and Discussion of Recent Struggles
–
Screecher Report
Russell and Elliott are back and hoping to do their part to help the team during this rut that the Eagles have found themselves in. FGCU is 1-7 since the last S/R episode dropped so the fellas are looking for the tides to turn. They discuss the equally devastating and fun, OT loss to UNA, and the team's overall struggles. Listen in and tell your friends! Wings up and go Eagles!