It is no secret among FGCU fans that Women's Basketball Coach, Karl Smesko, does not know the meaning of the word "rebuild". His mastery in the art of "retooling" instead, has earned him accolades and praise year after year. A season ago, Smesko and Company navigated the loss of 10 scholarship players by adding some tremendous talent, highlighted by breakout performers Kierstan Bell and T.K. Morehouse, among others. This time around, the Eagles lost just 3 players and return over 90% of their scoring from a season ago. With this being the case, it would have been quite alright for the coaching staff to pretty much keep the status quo, plus a few freshmen or something like that. After maybe the best season in program history (26-3), nobody would have complained about running it back with virtually the same crop of players. However, there were clearly other plans. Coach Smesko and the rest of the staff took full advantage of a wild transfer portal, bringing in 4 new players. Below, we will do a deep dive on each of these newcomers and take a look at their path to FGCU and what we could see from them this year, in what could be an extremely special season.
Kaela Webb
Webb joins the Eagles after spending her first 2 collegiate seasons at Providence and playing this past season at Detroit Mercy. Hailing from Michigan, she attended high school at Detroit Country Day School. There she took on the role of point guard, leading her team to 3 state championships.
After securing herself as one of the most decorated athletes in school and area history, Kaela went on to play college ball at Providence. It didn't take long for her coaches there to see that their investment in the quick, aggressive guard would pay dividends. As a freshman, Kaela started 18 of 35 games played, averaging 8 points, 2 assists, and 2 rebounds in 23 minutes per contest. As a sophomore, her role expanded and so did her production. That year, she started 28 of 32 games played, averaging 29 minutes. Her output also increased to 10 points, 2 assists, and 3 rebounds per game.
Kaela's emergence earned her further opportunities. Among them was the chance to play much closer to home. For her junior season, Kaela elected to transfer to Detroit Mercy, located just about 15 minutes from the high school where her name hangs in the rafters. Whether it was individual growth, a conference change, the spectacle of a homecoming, or a little bit of everything, Kaela burst on the scene for the Titans. She played and started 12 games for them, averaging about 18 points, 2 assists, and 3 rebounds in 35 minutes per game. Unfortunately, Kaela's team, and their season, was greatly hindered by the COVID-19 Pandemic. They finished with a record of just 1-13, leaving Kaela's itch for a conference championship unscratched.
On 3/30/21, FGCU Women's Basketball announced via social media that Kaela would be joining the squad, with up to 2 years of eligibility. Head Coach, Karl Smesko describes her as "a combo guard with excellent ball skills. She's a good shooter and scorer and will be an asset to the team." In what amounts to approximately 2 ⅓ seasons (due to Covid) Kaela has accumulates 810 points over her 3 collegiate years. This is impressive by itself as she is a lock to be a 1000+ point scorer when her career is finished. However, when you factor in the shortened season last year and project it to a full slate of games, that 810 number might be closer to 1200. Regardless, Kaela will bring experience, success, and production to a team that already possesses a lethal amount of those ingredients. Her presence will allow Coach Smesko to have elite backcourt/guard play for all 40 minutes a night.
Kendall Spray
Kendall comes to FGCU after spending her previous 4 years at Clemson and UT Martin. Growing up in Tennessee, she attended Wilson Central High School. There she had a lot of success, culminating in a senior year that saw her team finish with a record of 33-1 and a trip to the state championship tournament.
Kendall earned many individual and team awards and honorable designations, on the way to receiving many D-I offers to continue her basketball career. She chose to stay close to home and a launched her collegiate career at UT Martin. There, she found immediate success, winning Ohio Valley Conference Freshman of the year and being named an OVC 2nd teamer. She made 25 starts in 31 games played and averaged nearly 13 points, 3 rebounds, an assist, and a steal per game.
As a sophomore, Kendall's penchant for high-level shooting/scoring a strong defense took another big step forward. She finished the year as an OVC First-team selection after starting all 34 games and playing nearly 35 minutes a night. She averaged nearly 17 points, 4 rebounds, 2 assists, and 2 steals per game and shot 44% from the field and 43% from beyond the arc.
From there, Kendall would take her impressive talents and proven success to Clemson. After sitting out 18-19 due to transfer rules, she took the court as a redshirt junior for the 19-20 season. She appeared in and started 30 games for the tigers. Despite an adjustment period that saw her efficiency go down and turnovers go up, Kendall still averaged 10 points, 3 rebounds, 2 assists, and 1 steal. She also set a Clemson single-season record, making 80 3-pointers on the year.
As a senior, with a year of ACC basketball under her belt, Kendall seemed to regain the efficiency that she boasted in the past. She played in 26 games, averaging 10 points, 3 rebounds, 1 assist, and 1 steal while cutting her turnovers in half.
After a couple of strong seasons at Clemson, Kendall decided to play out her 1 remaining collegiate season at FGCU. The Eagles welcome a player who has been lethal from beyond the arc and also has a ton of experience and success to offer the team. Coach Smesko stated that "Kendall is one of the best shooters in the country. She should really excel in our style of play." This fact is definitely something that drew her to the program. Kendall's 3-point prowess and tenacious commitment on defense makes her a perfect fit for this team.
Karli Seay
Karli joins FGCU after spending 3 seasons at LSU and 1 season at Western Nebraska Community College. Growing up in Flossmor, Illinois, she attended Homewood-Flossmor High School. There, she made a name for herself as a proficient scorer but moreso, an elite defender.
Karli's abilities earned her a shot to prove herself on the JUCO level and she did just that. In her lone season there, she averaged 14 points, 5 assists, and 3 rebounds. Karli came on strong near the end of the season, after leading her team to the JUCO national tournament. In the tournament, she strung together 30-point performances left and right, culminating in a career-high 48-point outing, breaking a 39 year old school record.
Karli's production proved her worth in the JUCO ranks and the D-I offers poured in. She chose to take her abilities down the bayou to LSU. There she carved out a role as a rotation player while she got her feet wet against some fierce competition. Her sophomore season saw her play in 25 games, making 2 starts and averaging 12 minutes played per game. As a junior, her contributions increased to playing in 27 games and making 9 starts in 14 minutes per contest. Last year, as a senior, Karli played in 22 games (10 starts), averaging about 5 points, 2 rebounds, 1 assist, and 2 steals in approximately 25 minutes per game.
Karli's time at LSU came to a close as she completed her undergraduate studies. With a graduate year granted to her, she chose to finish out her career as an Eagle. Per Coach Smesko, "Karli is an absolute lock-down perimeter defender. Offensively she is efficient and makes really good decisions with the ball." With all the offensive firepower this team is set to have, Karli provides an elite level of defense to the mix. Looking back to last year, a special season was halted in its tracks by an incredibly strong and tough Michigan team in the first round of the NCAA tournament. In that game, Michigan's star player, Leigha Brown, was next to unstoppable. This season, FGCU is much more prepared to mitigate the star-laden teams that could come their way in March, thanks to Karli's presence.
Milan Schimmel
Milan joins FGCU after spending last season with Cincinnati. Originally from Mission, Oregon, she attended Nixyaawii Community School on the Confederated Tribes of the Umatilla Indian Reservation. There, she starred for her team, leading them to a state runner-up up designation. Unfortunately, playing at a small high school, Milan's recruiting was maybe more quiet than she deserved.
To begin her collegiate career, Milan went the JUCO route, suiting up for Hutchinson Community College as a freshman. In her lone season there, she started all 37 games and averaging 7 points, 4 rebounds, 3 assists, and a steal per game.
Milan's well-rounded style earned her the opportunity to play for one of the best JUCO programs in the nation. For her sophomore year, she traveled south to Eastern Florida State College. There, her impressive skills shined further. That season started all 30 games, averaging about 15 points, 7 rebounds, 4 assists, and almost 3 steals per game. Milan again proved her pedigree, earning a shot at playing D-I ball.
For her junior year, Milan played basketball for Cincinnati, under Coach Michelle Clark-Heard. Her accession to the D-I ranks and playing for Cincinnati was a big moment for Milan. Her 2 older sisters (Shoni and Jude) both played/starred for Coach Clark-Heard at Cincinnati. Shoni went on to be the 8th overall pick in the 2013 WNBA draft. In a covid-shortened season, Milan quickly rose into a reliable role, starting 12 of 14 games played. Against a steep increase in competition, her well-rounded style persevered as she averaged 6 points, 5 rebounds, 4 assists, and 1 steal in 32 minutes a game.
Late this summer, it was announced that Milan had decided to transfer from Cincinnati, choosing to take her talents back down to Florida to suit up in green and blue again; this time for FGCU.
This team is just about as well-rounded as possible and adding Milan to the mix just further cements what this squad has a chance to be. The players know it, the coaches know it, and the fans have come to expect it. Barring unforeseen circumstances, this group is prepared to put in the work and have a special season.
In Case You Missed It
If you haven't already listened to our podcast featuring FGCU Women's Basketball newcomer, Kendall Spray, you can listen below or on most major streaming platforms. If you're not up to date on our Men's Basketball Nest Newcomers series, feel free to listen and read via the links below. As always, thank you for your support and #WingsUp!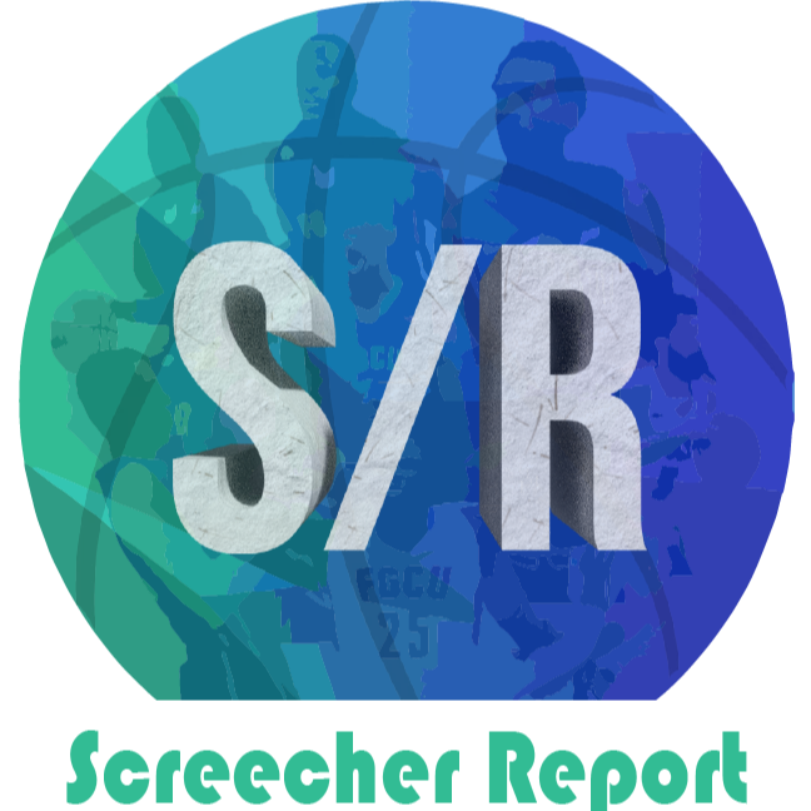 Ep. 56: FGCU Falls to UNA and Discussion of Recent Struggles
–
Screecher Report
Russell and Elliott are back and hoping to do their part to help the team during this rut that the Eagles have found themselves in. FGCU is 1-7 since the last S/R episode dropped so the fellas are looking for the tides to turn. They discuss the equally devastating and fun, OT loss to UNA, and the team's overall struggles. Listen in and tell your friends! Wings up and go Eagles!