It was March, 2013. I was a sophomore, sitting in my North Lake dorm playing Super Smash Brothers with my roommates. However, my usual Yoshi dominance was not on display that afternoon because I was distracted. Like any good college students, we had a second TV in the living room and on this day, that second TV was set to ESPN2. FGCU was facing off against Mercer in the Atlantic Sun Conference Championship game for an NCAA tournament bid. The Eagles battled with Mercer and eventually pulled away for a dominant victory. Nobody knew it then but that team was only getting started. Prior to the Dunk City phenomenon that would sweep the nation just days after the aforementioned game, I was admittedly a casual fan. I periodically went to games my freshman and sophomore year. But when "Dunk City" happened, like so many others, I was hooked. My love for FGCU as a school and a basketball program was taken to a level of unwavering passion and permanence. I tell this story simply to illustrate that the average FGCU fan was created around this same time as me. Guys like Brett Comer, Sherwood Brown, Chase Fieler, and Bernard Thompson became celebrities and the faces of the program. It became a point of pride to have one of those dudes in one of your classes or to be behind them in line at Chik-fil-A in the Student Union/Cohen Center. With that said, there are over 10 years of basketball and a number of student-athletes that came before this phenomenon who each played their part in founding and building up the program to a point where Dunk City was even a possibility. The purpose of this article is to catch up with some of these former players, honor their accomplishments and contributions to the program, promote any potential involvements, and also reinvigorate that passion for the program in some of the "older" alumni. I was able to talk with a lot of past FGCU greats and have some really good, quality conversation. I hope this comes through to anyone who reads this piece. Please enjoy.
Brett Fritz
THEN: Brett Fritz is the 7th recruit in program history and a member of the inaugural 02-03 team. Beyond being a founding member of the Men's Basketball program, his story is quite interesting. He attended Canterbury High School in Fort Myers, FL where he had a lot of success. "I had a great high school career but I was a late bloomer. We had a good team but I wound up with only 2 D-I offers and about 20 D-II offers. At the time, FGCU wasn't a consideration. They didn't have a team and were barely a full university." Eventually, Brett grew another couple of inches and found himself at Setson. There he casually played basketball but turned down offers to join the team. "I didn't think I'd play college hoops again." The completion of his sophomore year brought Brett back home to Fort Myers, where he found a summer internship with FGCU. Coach Dave Balza had just been hired as the Eagles' first Men's Basketball coach. "Coach Balza lightly recruited me in high school but his school (at the time) was too far north. He was recruiting for that inaugural team and asked me to put together an open gym with local guys so he could evaluate a potential recruit he had coming in. I set it up and at the end of the run, Coach Balza asked me why I wasn't playing anywhere. I told him my story and he offered me a scholarship on the spot. He told me he wanted me to be the first local kid in program history and I graciously accepted."
As an Eagle, Brett's story gets no less interesting. He transferred to FGCU for the "year before" season (2001-02) where inaugural teams can practice but don't play any games. Leading up to the 2002-03 season, he was involved in a bad car accident that caused him to miss all but 1 game that year and forced him to utilize a medical redshirt. Brett came back strong and played in 27 games (20 starts) during the 03-04 season. That year he averaged 9 points and 5 rebounds per game, while shooting nearly 60% from the floor. He also earned a bachelor's degree. "After that, I thought my playing days were over again. In 04-05 I was working on my MBA and working as a graduate assistant in the Athletics Department. Coach Balza called me on Christmas day and told me that the NCAA granted me 1 more semester of athletic eligibility. I came back and played the 2nd half of that season. I was essentially a 6th year senior, working on my MBA, and was able to add 19 more games to my collegiate career." The team went 66-25 in his 3 seasons at FGCU.
LEGACY: Despite playing just 1 full season, Brett's impact on the team as the first local kid in the program has had a lasting effect. His decision paved a path for current stars, like Caleb Catto (Cape Coral), to follow. "I was named a team captain by the coaching staff and treated it as a huge honor. Not many people can say that they were named captain of the first-ever basketball team at a University. I worked hard after my accident to come back and earn my spot. My role as an Eagle was different than what I was used to. We had plenty of scorers in place and I just had to be a jack-of-all-trades and a hustle guy. I knew that if I prioritized offensive rebounding, diving after loose balls, and hustle plays, I could help the team win. We started the 03-04 season 14-0 and beat 2 D-I teams (Eastern Illinois & IPFW) on back-to-back nights in their own gyms. We were ranked the #5 team in all of D-II as a 2nd year program."
GROWTH/DUNK CITY EFFECT: "We all knew that the team was going to be successful. Coach Balza did a great job of recruiting for the early teams. He was able to generate wins and excitement around the program that set it up for long-term success. We knew the program would have to move to D-I sooner than later. Not only were we an immediate D-II powerhouse, but we were a public university among mostly private ones. Even with all that, nobody expected the Sweet 16 as early as it came. Watching Dunk City happen was amazing. Overnight, people knew about FGCU and I no longer had to explain what team I played college ball for. Before that, I would wear my FGCU shirts and people would have no clue what/where it was. After the Dunk City run, I'd wear shirts and people would ask me if I went to school there or if I'm jumping on the bandwagon? I'd just laugh and say 'I have a history there'."
And being the first local kid to play for FGCU Men's Basketball, Brett does have history with the school. Additionally he has first-hand experience of just how much the area has grown since his early days on campus. "The growth in SWFL has been crazy. When I was in high school, there was almost nothing between Fort Myers and Naples. Now there are cities built up and hardly any open fields in sight. Campus used to feel so far away from everything but now it's almost the center of all the action. Before FGCU, the closest state universities were near Miami or Tampa. Simply having the school where it is has brought a ton of growth to the area."
NOW: Nowadays, Brett lives in North Carolina after spending time in Illinois. He can also thank FGCU for meeting his wife, whom he married while still attending school. Together they have 3 kids (2 girls and 1 boy) who he states "all hope to be Eagles one day". Brett has found success as a Managing Partner of a consulting firm and is also the Co-Founder and CEO of a Predictive Analytics company. Beyond career success, basketball remains part of his life. "I still play a lot of basketball in various men's leagues and open gyms and almost every weekend, you can find me in a gym watching my girls play AAU. I follow the [FGCU] Men's and Women's teams closely every year. Living in another state, it's hard to get out to games in person but I hope to again some time soon."
---
Roman Brown
THEN: Roman Brown can be described as the "first dunker" in program history but more on that in a bit. He's a member of the inaugural 02-03 team and played there until 04. Like most players featured in this article, Roman's journey started elsewhere. Hailing from Arkansas, he had a decorated high school career. As a senior, he was an All-Conference, All-State, and All-Metro player after averaging 14 points, 13 rebounds, and 9 assists per game. These accolades garnered him a slew of D-I offers. He ended up staying local and attending the University of Arkansas at Little Rock. After a rough, 4-win freshman season, both Roman and the head coach left the program. Roman transferred to Florida Community College but was injured for much of his lone season. He transferred to Stetson for a brief stint but was forced to withdraw due to an oversight by the University. Eventually word about Roman's talents got around to FGCU and Coach Balza offered him a scholarship just 1 week before the school year started. "I accepted the offer for several reasons. 1 is because I got to stay in Florida. Another reason was my familiarity with Bryan Crislip (also attended University of Arkansas at Little Rock). Lastly, the prospect of playing on the very first team of a program excited me. It's a rare opportunity and I couldn't pass it up." Roman's impact was immediately felt. Over his 2 seasons as an Eagle, he played in 56 games (43 starts) and averaged 8 points and 6 rebounds. The team went 43-18 while he was there and his presence had a lot to do with that.
LEGACY: Roman's immediate impact for FGCU is evident. As stated, he is the "first dunker" in a program that has become synonymous with the Dunk City moniker. Beyond that, he earned the program's 1st dunk, 1st block, and also the 1st technical foul (someone's gotta do it 💪😤). "I absolutely loved playing with my teammates and for my coaches. It was an amazing time. As a team, we collected the program's first wins over a D-I opponent in back to back nights. We beat Eastern Illinois on the road, then drove through the night to play IPFW the next day and we beat them too. We almost went undefeated at Alico during my 2 seasons (29-1). The only loss came on a miracle last-second shot in my final game as an Eagle." Roman was the first in a line of many explosive, tough, and athletic bigs that have come through the program.
GROWTH/DUNK CITY EFFECT: "Those early days were amazing. Alico was a great arena but it was a blank canvas. There were no banners, trophy cases, or murals of student-athletes. Green was the primary color on the court, there were no LED lights or scoreboards, and the practice court wasn't even built. Beyond basketball, everything was under construction in those early days. The baseball and softball fields were being built and there was a giant wooded area where the aquatics center now sits." The early sports teams had to make do with what they had. "Student-Athletes had to share all of their space with the other students and even had to reserve time/space for the team. The baseball teams set up batting cages and the space that is now loaded up with dorm buildings was once a bunch of fields used for recreation and sports team practices." In addition to the sports complex, campus obviously looked quite different too. "There were only 3 Academic Buildings. McTarnagan Hall, the initial Library, and the Arts building were also there but that's it."
The growth of the campus was gradual. But, by all accounts, growth for the basketball program seems to have been unavoidable and expected. "All that early success was partly due to a number of D-I transfers that came to the program. These weren't just any D-I transfers either. These were guys who were highly decorated at their previous universities. FGCU had become a very attractive destination for D-I transfers. That stigma and reputation helped with recruiting high school talent too. It was only a matter of time before the talent, coaching, and facilities all lined up to make FGCU a player in D-I athletics. Then Dunk City happened and I felt like a proud father, flipping through a photo album. To see FGCU being put on the map on a national stage was exhilarating. The rapid growth of the program, the increased interest from the fans, and the national media coverage is something we dreamed about in the early days. Since then, wearing my FGCU gear out in public brings an enormous sense of pride. For a moment, everyone knew who FGCU was and wanted to be connected, in some way, to the cool, new kids on the D-I block." And being the programs first dunker, Roman will forever be connected to FGCU.
NOW: These days, Roman resides in Orlando, FL where he works as a Long Term Care Specialist. Outside of work, he is involved in a youth mentoring program and also makes sure to get quality time with friends and loved ones. Of course basketball remains a big part of his life. "I try to keep an active lifestyle and that includes playing basketball. I play in a Men's League in Winter Park, FL at the Recreation Center. It takes 6 days of recovery for me to play on the 7th day, but it's all worth it. I'm still effective but not like I once was in my 20's. Things hurt more than they used to and my athleticism isn't at the same level, but it's still fun to get out there, throw it up, and run up and down the court. I plan to do that as much as I can for as long as I can."
"I have followed the team regularly since my playing days ended. Before Covid, I typically attended at least 3 games, in person, per season. I watch as many games as I can on ESPN+ and I follow the team's social media content. There is also the various media outlets like Naples Daily News, Fort Myers News Press, and of course Screecher Report. I come down to Fort Myers at least once a year. I spent 8 years there and it's my home-away-from-home. The whole area has expanded so much."
Stay up to date with this FGCU Men's Hoops founder on Twitter at @jahdj. Stay tuned for an upcoming podcast that he has in the works as well. "A former rival that I played against at FGCU and I are hoping to launch a podcast centered around Mid-Major and D-II Basketball. We will also talk some NBA and current state of affairs with the game of basketball."
---
Bryan Crislip
THEN: If being a main part of the inaugural basketball team of a university wasn't enough, Bryan Crislip was the first signing in program history. Prior to lighting up Alico, he grew up in the town of Parkersburg, WV; a place that has been extremely kind to FGCU. Bryan attended Parkersburg South High School alongside another soon-to-be-mentioned FGCU legend, Ryan Hopkins. He and the team had a lot of success, going 53-20 over his career there. Bryan was a 1st team All-State selection for his senior year after averaging 15 points, 10 rebounds, and 10 assists for the season. The team made it to the State Tournament for just the 3rd time in the school's history.
"Out of high school I had 15-20 D-I offers. Initially, I verbally committed to East Carolina. They ended up pulling my offer a week before signing day. I rushed and ended up signing with Arkansas Little Rock (then coached by Porter Moser). Looking back, I shouldn't have committed there so quickly but I was lucky enough that my decisions eventually led me to FGCU. I chose to be an Eagle because I loved the idea of playing in Florida. I also got the opportunity to play with my best friend, Ryan Hopkins, again. I heard about FGCU from some family friends in the area. I was leaning toward going to Radford, then I visited the campus and fell in love."
LEGACY: Bryan joined FGCU in 2001 as the 1st overall commit, when all they could do was practice. Over the next 3 season, he would become one of the best point guards in program history. His FGCU playing career spanned from 2002-05. He played in 89 games (86 starts) averaging 11 points and 7 assists.
"I had no expectations. I was just excited to play basketball again. Once I saw the team and the collection of talent that Coach Balza was putting together, I knew we had something special. I was blessed to be part of a lot of memories. I'm still a WVU fan, being from West Virginia and, for whatever reason, the Fort Myers/Naples area is loaded with families from there. I fondly rememer going to sports bars in the area and watching the mountaineers with those friends and family. That really made FGCU feel like home."
"As a player, being the first ever recruit for FGCU is a huge honor for me. During my tenure, we beat two D-I teams on back-to-back nights as a D-II program. Our 1st year eligible for post-season play, we qualified as the number 3 seed. We only lost 2 home games in my career at Alico arena. I was honored as Male Athlete of the year in 2005 at FGCU."
"Lastly, I was fortunate enough to coach under Coach Smesko for a few seasons after my playing career ended. In those years, we made it to the D-II Sweet 16 and also lost in the D-II national championship game. That was a remarkable run and I learned a ton from Coach Smesko."
GROWTH/DUNK CITY EFFECT: "FGCU had been moving up quickly since Day 1. When we signed to play there we thought we would be NAIA but we ended up going the D-II route instead. As a D-II program, the Sunshine Conference wouldn't allow us to become a member. With all the success of all the programs, something had to be done so even back then, there was talk and anticipation of transitioning to D-I. I'm not surprised FGCU has flourished. It's a great university with great resources and, more importantly, great people running the programs. There are still so many coaches I admire. The university has consistently hired quality people in all sports."
"The Sweet 16 run was an amazing thing. Chase Fieler was a part of it, which made it extra special for me." Bryan and teammate, Ryan Hopkins each went The the same high school as Chase and have a close relationship. "The pride I felt from being here from the beginning also made it feel like we were a small part of that Sweet 16 run. I was able to fly out to Dallas to watch the game versus UF. I would've loved to be at those 2 games in Philly. I happened to be having my 2nd child that week though and couldn't make it. A group of my teammates went to those games and said it was an unforgettable experience that they will be able to tell their grandchildren one day."
NOW: Bryan has returned to his roots as a high school basketball coach in Parkersburg, WV. There, he also helps to run a sports facility called Elite Sports Center. "Parkersburg is a small town but they are passionate about sports. Ryan (Hopkins) and myself met in 1st grade and just clicked. We were both blessed with a talent in basketball and pushed each other daily to be great. I'm a big believer in if you have someone who will push you and you push them, you both can be great. That makes it a lot easier getting in the gym and working on your game when you have a like-minded best friend to do it with. Also, Chase is a good friend. Every time he comes to town, he makes it a point to stop over at The Elite to talk or get a workout in. I've known Chase for a long time and was able to connect him to FGCU. For whatever reason, he was under recruited out of high school. We talked Coach Balza into flying up to watch him play. It took 1 game and Coach was sold and the rest is history. FGCU was good to us Parkersburg boys. We hope to send more players there in the future."
For the foreseeable future, basketball and the SWFL area will remain a big part of Bryan's life. "I am still very much involved in basketball and will continue to be involved in the sport for a long time. I'm hoping to move back to the Fort Myers/Naples area in the future. Actually, at the time of this article, I'm currently in Naples and hoping to stop by FGCU and check out the campus. Last time I was here was in 2011 and things had grown a lot. I still follow the team but not as closely as when Chase was playing. It's an added bonus to have a close relationship with someone in the program. I'll always follow and support the team though. Spending time here this week reminds me of why this area holds a special place in my heart."
---
Ryan Hopkins
THEN: Hopkins is one of the first Stars in program history. He joined the team as the 2nd ever commit and was at FGCU from 2001-05. Prior to college basketball, Hopkins attended Parkersburg South High School in West Virginia, alongside the aforementioned, Bryan Crislip. There he put up big time numbers and led the team to the WV State Tournament for the first time in 20 years. Hopkins ended his high school career as the team's all-time leading scorer. With that individual and team success, his options for college basketball came pouring in (Niagara, Vermont, Arkansas Little Rock, Eastern Michigan, and Campbell, among others). Ultimately, Hopkins chose to take his talents to Eastern Michigan, where he played out his freshman season.
After a season at Eastern Michigan, Hopkins and his longtime friend and teammate (Bryan Crislip) decided they were both unhappy in their current situations. "We had a family friend that lived in Bonita Springs at the time. They told Bryan's family that there was a basketball team starting up at this college in Fort Myers. We made a visit down to check out the campus and we knew that we could continue playing together here. The recruiting process was fairly simple. Coach Balza actually came up to Parkersburg. Bryan's dad set up am open gym, with Bryan and I on the same team. Afterwards, Coach Balza offered both of us scholarships. Bryan signed first and I was shortly after."
LEGACY: In Ryan's 3 seasons as an Eagle he quickly became maybe the first "star" of the program. He played in a total of 88 games, making 76 starts. Over his FGCU career, he averaged nearly 16 points and 3 rebounds per game on 39% shooting. "I was given a ton of freedom by Coach Balza and I was fortunate to be able to put up a lot of shots (some bad ones too lol). I had an awesome three years of playing at FGCU. I loved all my teammates over the years and made some of my best friends that I still talk to today. My personal success at FGCU is totally owed to Bryan, my other teammates, and Coach Balza."
The team went 65-25 in Ryan's 3 seasons and he is a huge reason why. "I'm honored to be the 2nd ever scholarship player at FGCU and also to have scored the 1st basket in school history on an assist from Bryan (of course)." Hopkins was the school's first 1000 point scorer and he still holds some 3-point records to this day. He formerly held to record for most points in program history but that honor is now held by Bernard Thompson. "I'm also honored to be part of the inaugural team that helped pave the way for the program to achieve the D-I heights that they have reached. We made the NCAA D-II tournament our first year of eligibility. We made memories that I'll never forget."
It seems that Hopkins' legacy might have extended past his playing days. He (like Bryan) remembers being very influential in getting eventual Dunk City legend, Chase Fieler, to the program. "I remember telling Coach Balza 'You have to go check this guy out! You have to get this guy!' I remember Balza coming to Parkersburg and going to the game with him to watch Chase. I think he offered him right after the game. I like to think that Bryan and I playing at FGCU led to Chase deciding to play there as well. Although, I have never confirmed that with Chase (lol)."

GROWTH/DUNK CITY EFFECT: As another founding member of FGCU Men's Hoops, Ryan has unique perspective on just how much the program has grown. "When I first visited the campus the 'gym' was a sign that read 'Future Home of Gymnasium'. Gulf Coast Town Center was brand new and I'm pretty sure there was only about 3,500 students enrolled when I first committed. About 3 years ago, I came back for the alumni game and saw the gym. It's mostly the same as when I played, just more updated and modern. I was amazed at how much the campus had grown though. Now they have their own exit off the highway. I'm sure the Dunk City movement had a lot do do with that. Even before that though, we knew we could play. Coach Balza did a great job of getting good players to come in and we all meshed very well together. Our goal was to play for a national championship and we got there in our first eligible season as a D-II team. With our success, we knew that it wouldn't be long for them to jump to D-I. With that said, it happened way quicker than anyone expected. With the facilities and the location of FGCU, I always knew it would be a successful place that kids would want to attend. As an alum, Dunk City was one of my most cherished moments of my sporting career and I wasn't even playing. To know that we were the first ever team and that our early success played a part in future success was so rewarding and memorable. Actually, myself and a couple other first-timers went to Philly for the game and we sat in the front row watching it all go down. It's still the most exciting sporting event I've ever been to, hands down."

NOW: These days, Ryan resides in St. Johns, FL; a town just south of Jacksonville. "I have a lovely wife, Lauren, and two beautiful children (Magnolia 3 and Raleigh 5 months). I have had the luxury of being a stay at home Dad and I love being a part of their everyday life. I still love watching basketball and that will never change. However, I don't do much playing anymore. I can't deal with being bad (lol). My competitive side is still there but I don't have the time to put in to be decent anymore, so I would rather just not play."
While his playing days might not be as frequent or as polished as they once were, Ryan still holds FGCU close to his heart. "I haven't made it down to Fort Myers in a while but it is truly one of my favorite places in the US. I'll always follow the team and wish the best for them. Dunk City really reinvigorated a lot of alumni and gave them a bigger sense of pride and notability for the school. FGCU will always be the place that allowed me to be teammates with Bryan again and that's special to me."
---
Leighton Bowie
THEN: Bowie is another D-I transfer to become an Eagle. He is a native of Port Charlotte, FL, where he attended high school. His high school career was excellent and it earned him a scholarship at D-I College of Charleston. Bowie's had a strong career there. Injury forced him to sit out a year and take a medical redshirt. At this time, FGCU had just completed its' inaugural season of basketball. Wanting to move closer to home, Bowie was intrigued. "I went to FGCU my final year because it was close to home (Port Charlotte). I had a son while I was at the College of Charleston and decided to leave school early to take care of him. It was a great experience. The fans, coaches, and my teammates were great. Accepting a transfer for just 1 year can be challenging. I was always really impressed with the facilities. Everything was top-notch in my opinion."
LEGACY: Bowie was an Eagle for just that one 03-04 season, but what a season it was. The team went 22-5 and he posted some of the best numbers in program history as only a part-time starter. He averaged nearly 20 points a game to go along with 7 rebounds. Teammates like Brett Fritz, Roman Brown, Marcus Watts, and Ryan Hopkins have all given him unsolicited praise over the years. He is described as supremely athletic, gifted, and also hardworking. As Roman Brown eloquently put it, "he's probably the best player you've never heard of." When told of the impact he had on his teammates, Bowie said "I appreciate all the kind words from my FGCU teammates. I appreciate that they all gave me the opportunity to play with them. I never thought of saw myself as being very athletic. I just used my quickness to my advantage to get around players offensively and defensively." Such a modest answer for a game-changing talent. In an equally modest statement, Bowie's favorite memories have nothing to do with wining games or performing well. "My favorite memory has to be of Robinson Tisme (Forward; 2002-04). Coach Balza always ran with us and it was the 1st day of conditioning. Coach's rule was "don't let me beat you." We all got a head start but Coach still beat Tiz."
NOW: For the most part, Bowie has lived the quiet life since his days at FGCU. "I currently work for Charlotte County Public Schools, specifically as the Dean of Students at Port Charlotte High School (his alma mater). My goal is to be the superintendent of Charlotte County Public Schools one day. Unfortunately, I have not been back to the school but I would love to attend a basketball game in the future. My younger son loves basketball and it would be great to take him."
---
Adam Liddell
THEN: Adam Liddell was another big-time transfer for FGCU. He attended the university from 2005-08 and graduated with a bachelors degree in communications with a minor in philosophy. Prior to this, Adam grew up in the small town of Auburn Indiana. A successful high school career led him to one of the bigger schools in the state, Purdue University. He essentially redshirted his freshman year there and was looking for a change. "After redshirting my year at Purdue, I knew I didn't want to sit out another year. To get around that, I started researching Division II schools. Lucky for me, FGCU was still D-II in 2005, although we went D-I shortly after. Growing up in a small town, I had always wanted to live in the Sunshine State. Florida is my mother's home state and we visited at least once a year as far back as I can remember. After weeks of looking at Florida schools, I wasn't having any luck. Then I got a call out of the blue from Coach Balza at FGCU; a school I'd never heard of. He invited me down for a visit along with a fellow Indiana All-Star in Beau Bauer. Beau and I lit up open gym with ally oops and sharp shooting. I knew then that I wanted to be an Eagle and I committed on the spot."
LEGACY: Adam quickly became a pillar for FGCU in the early stages of their transition to D-I. "A big factor in my decision to come to FGCU was playing time. I had the opportunity to play the minutes that I wanted to play and make an impact right away." He, along with the aforementioned Beau Bauer, and Casey Wohlleb provided the team with a strong nucleus of talent. "Like I said before, Beau and I lit up practice and had a great connection. We were both Indiana guys and we bonded over that. Casey was another big-time guy to play with. He was a very good player but, more importantly, he was a great person. We all came from high-major D-I programs and I think that provided some extra competitiveness between us. Casey was one of the hardest working players on the team. He lived and breathed basketball and was willing to do everything he needed to do to improve his game." While this trio was together, FGCU was an impressive 45-18.
"It was a big change coming from a Big Ten school to FGCU but it was the best decision I could have made. FGCU was the right fit for me from all aspects of life." Adam certainly fit in well with the Eagles and provided some great moments. He played in 82 games, making 70 starts over his 3 years with the team. He is a career 10 points per game scorer and also holds the FGCU record for career rebounding average (7 per game). Additionally, Adam still holds the FGCU record for most rebounds in a single game (19). "I Wouldn't say I was a star at FGCU, by any means. I was blessed with a God given talent. I did my best and worked hard to showcase that talent on the basketball court."
"While playing ball at FGCU, we traveled to some pretty cool places (Puerto Rico, Hawaii, Arizona, etc) and made a ton of memories. I'm honored to be part of the very first FGCU team to play D-I basketball. That's special to me. We were a good squad with a lot of heart and a desire to win. I believe that team still holds the record at FGCU for holding an opponent to the fewest point in a half (allowed just 6 point vs Penn in the opening half). I am very proud and thankful to be a part of the FGCU athletics family. It's a great university to attend and I look forward to seeing the Eagles soar high in the future."
GROWTH/DUNK CITY EFFECT: Similar to many other guys we talked to, the Sweet 16 run was a special moment for Adam (and also a lucrative one). "I remember the Dunk City/Sweet 16 run very fondly. I was living in Fort Lauderdale at the time. I actually picked FGCU I'm my bracket that year to go to the Sweet 16 and then lose to Florida. I ended up winning that pool. It was super fun and exciting to watch. I was wearing old FGCU gear around all week and felt so proud to have worn the green and blue. To be honest though, in my opinion, "Dunk City" started much earlier than that. We averaged 2 or 3 dunks a game between the collection of guys on the team. We had our fair share of alley-oops too lol."
"I was in Fort Myers this past March. The school has grown so much but it's not unrecognizable. I love returning every year and seeing all the changes. I remember a time when Gulf Coast Town Center only had a Target and a Miller's Ale House. The town has grown so much and it's definitely good for the school."
NOW: These days, Adam stays up to date with the program and the University as a whole. "I'm a part of the Alumni Association and I keep up on how the school is progressing through the years. I follow the teams and athletic department to an extent. I have great memories there on and off the court. At the same time, FGCU is so much more than Athletics. The school has an unbelievable academic program that is involved in environmental issues related to Florida and they also have a diverse set of medical programs. I'm just proud to have a degree from the university."
"I recently have moved back to my hometown of Auburn, IN after living in Fort Lauderdale for the past 12 years. My family and I operate and manage a self-storage business. As a side gig, I am a private tennis and basketball instructor. I actually believe the 2 sports compliment each other very well. I love teaching kids the fundamentals and passing down any knowledge that can help them. Tennis is a sport you can play well into your later years while still tapping into that competitive side that never goes away. I love reminiscing on my days at FGCU. It's a wonderful university and I would encourage anyone, athlete or not, to attend FGCU."
---
Beau Bauer
THEN: Beau Bauer is another essential piece to the D-II years. He was an Eagle from 2005-07 and had a ton of individual and team success. Prior to FGCU, Beau had a prolific high school career in Indiana that allowed him the opportunity to stay local and attend D-I IPFW. He spent 2 years there but due to some issues with their conference and post season eligibility, Beau elected to transfer. "I reconnected with my high school coach and was looking at schools nearby that might want me as a priority walk-on or something. I just wanted an opportunity to prove myself somewhere where I could compete to play and the team could compete for a championship. Coach Balza actually called and I went down there along with anothet Indiana guy and future teammate, Adam Liddell. We were all so impressed. I remember being on the flight on the way back home and just thinking about how I never expected FGCU to be a great place to play. I never thought I'd want to be that far from home." Beau entered the program at an interesting time. The founders were graduating and Coach Balza was looking for his next crop of program builders. This came in the form of some high quality D-I transfers including Beau. "Actually, when I was at IPFW, we played FGCU at home in Fort Wayne and they beat us. They had so much talent; Bryan, Ryan, Roman, and so many other guys. Some of those guys were still around, though not with the team, when I was there. Practicing against them made us that much better."


LEGACY: Beau came in and made an immediate impact for the Eagles. Over his 2 years with the team, he averaged 14 points, 4 rebounds, and 3 assists in 61 games played (60 starts). His confident shooting and leadership led the Eagles to a 45-18 record in his 2 seasons. "I knew there was opportunity for me to have success at FGCU. Bryan and Ryan had just graduated and there was a void at shooting guard. Fortunately the way it worked out, I was able to to prepare well and contribute right away as a starter and a captain. We had a ton of D-I transfers come in. Having Adam and Casey [Wohlleb] there was a huge benefit. Adam and I were both All-Stars in Indiana and he brought special size and talent to the table. We actually roomed together during our years together at FGCU. Casey came in from Marshall and just had the best work ethic. He was tremendously athletic and willing to put in the work. On a given night, he could put up 40. Coach Balza loved to run and get up and down the court. To do that, you have to have depth and we did. If I had a bad night, Adam, Casey, or one of the other guys coul fill in and pick things up. Opposing teams had such a tough time figuring us out because it was almost impossible to know who to gameplan against."
Beau's final year with the team was also the schools final year in D-II competition. Coach Balza had begun recruiting and scheduling games in a way that would prepare the team for the switch to D-I athletics. "My last year was the final D-II season but you could already feel the shift. There was a different level of scheduling with us starting that year in Philadelphia against Drexel and Penn. Coach was preparing the guys for D-I competition. We played in a lot of different regions and areas that had significance to guys on the team/staff. This was because conferences weren't extending invites to us. I think they were scared we might actually beat them and/or play tough against those higher-talented teams."
"I have so many fond memories as an Eagle. We went to Puerto Rico and Hawaii. We experienced so much and the team building was invaluable. Those are experiences that I never thought I'd get as a student athlete. It was truly awesome. We got closer as a team and as people. I remember we took a trip to play Butler and it was on valentine's day. It was snowing so bad that we didn't know if we'd even get to play the game."
NOW: Beau now lives with his wife and 2 kids in Bloomington, Indiana. He works in athletics fund raising for Indiana University where he secures funds for Student-Athlete scholarships. Prior tho this, he worked in the Notre Dame athletics department. "I still hoop when I can. With Covid, I haven't done it in a while. I coached my son in a rec team which was really fun and I liked that. I usually get down to Fort Myers once or twice a year. I try to follow the team on ESPN+. I keep in touch with Ken [Kavanagh] and we have a great relationship. I try to stay up to date on the team and the Athletics as a whole."
---
Casey Wohlleb
THEN: Casey Wohlleb is another guy who represents that 2nd generation of FGCU Men's Basketball. He was with the team from 2005-08 (right after all the founders had come and gone). Hailing from Boca Raton, he grew up just a coupe hours away from FGCU. Despite the close distance, his strong high school career carried him to D-I Marshall. After a season there, Casey made the decision to transfer and found himself at FGCU.
LEGACY: Casey's legacy at FGCU is a strong one. Transferring from a bigger school, he had some initial, lofty expectations of what his role would be right out of the gate. "I came in thinking I was going to be a star right away and I wasn't. I had to earn the trust of the coaches and then build up from there." Casey made 1 start his first year as an Eagle but held a prominent bench role, playing in 23 games and averaging 9 points, 4 rebounds, and 2 assists in 20 minutes a night. Over the next 2 years he transitioned from a part time starter to a full-time star for the team. As a senior, he averaged about 17 points, 4 rebounds, and 2 assists per game. As mentioned above, Casey shared the frontcourt with another past FGCU great in Adam Liddell. They complimented each other's styles and made for a tough tandem down low. "Adam was a great player. He was long, had a good feel for the game, and could pass well. He always found a way to get to the ball and made positive plays in a number of ways."
The Eagles went 55-39 in Casey's 3 seasons on the team. There was plenty of success as well as some struggles. "There are so many things I remember fondly. As far as individual moments, I remember dropping 24 points versus #10 Butler and their coach at the time was Brad Stevens. We lost but played them tough until the end." Stevens notably became the 3rd youngest head coach to have a 30-win season that year. "I also remember keeping pace with James Harden in our game against Arizona State. We got clobbered but it's still something I can take pride in."
GROWTH/DUNK CITY EFFECT: In talking with each of these past FGCU greats, they all have fond memories of the Dunk City phenomenon that swept the nation, even if their time came and went before that. For Casey, it's no different. "I was dating my wife, Brooke at the time. She had just finished up her last year of Volleyball at FGCU. We watched all of that unfold together and it was unbelievable. They did something so special and it made a lot of alumni that much more proud to say they played basketball at FGCU."
NOW: Today, Casey lives in Deerfield Beach with his wife and their 2-year-old daughter, Raelynn. Basketball has remained a huge part of his life. For the past 6 seasons, he has been known as Coach Wohlleb as he is varsity basketball Head Coach at North Broward Prep. "I have been running a year round basketball program called Ball By Design (BBD). We're a travel basketball program that currently has 4 teams. We run 3 basketball tournaments a year including Conquer the Creek, which is one of the bigger tournaments in South Florida. Over 100 teams participate every year. We do clinics, camps, and group training year-round."
Being so involved in basketball and not living too far away has allowed Casey to remain somewhat close to FGCU. "I try to follow most of the games through Twitter and I'll text Coach Fly after a good win. We went there for a Team Camp 2 summers ago. Last year, I brought the team (North Broward Prep) to a game and the next day we played Riverdale HS, who is coached by FGCU Basketball Alumni, Darrin Wallace."
---
Reed Baker
THEN: Rounding out this article is one of the last stars of FGCU Men's Hoops, prior to the Dunk City guys. Reed Baker joined the team for the 2007-08 season but sat out due to transfer rules. Over the following 3 years, he would leave his mark at the University, leading the team through the remainder of the ineligible D-I years. Prior to this, Reed grew up in SWFL and attended Bishop Verot High School in Fort Myers. An excellent high school career led him to Michigan where he played one season as a Wolverine, before electing to transfer after a coaching change. "The coach at Michigan left so I started looking into other schools. FGCU was transitioning to D-I and I was definitely interested in being part of something like that. The fact that it was close to home made it an even better fit."
LEGACY: The team had some notable and expected struggles during Reed's time there. They were in the midst of transitioning to D-I basketball and playing a much tougher schedule. Through the trials and tribulations of this period, Reed was a bright spot, averaging 13 points per game over his FGCU career. "I knew I was a capable scorer. I really think my experience at Michigan shaped me for that. There were definitely some rough times during the transition though. We weren't winning as much as we wanted to. People on the outside sort of gave a pass because there was an expectation of difficulty. We didn't share that expectation though. We were much harder on ourselves than the outside. As for my time at FGCU, I look back on it as a whole, rather than at specific moments. It allowed me to grow into the player I became and I appreciate FGCU not just for their athletics but as a school as well."
GROWTH/DUNK CITY EFFECT: Reed's timing at FGCU is very interesting. Not only did he overlap with the greats that came before him, but he also played a season or 2 with several guys who would eventually become Dunk City legends. Reed shared the court with names like Sherwood Brown, Chase Fieler, Christophe Varidel, Eddy Murray, and others. "I was shocked when they went to the Sweet 16, just like the rest of the world. At the same time, I wasn't surprised. They had just incredible talent and athleticism. In their early stages when I was there, it wasn't ready. They just needed time to grow and work on their game together and we all got to see what happened then. The whole Sweet 16 experience was honestly amazing. There was such a wide range of emotions for a guy like me. I was just with a lot of those guys a year or 2 before and all of the sudden, I'm watching them achieve these great heights. I watched the whole conference tournament leading up to that and I was super invested in it. Those guys put FGCU on the map and in the spotlight in a big way and it was great to see. Honestly they made my career and my general involvement in FGCU basketball more powerful and more relevant. I couldn't be more thankful."

NOW: Fast-forward to 2021 and Reed has found a new home in San Diego, CA. He lives there with his wife and their new baby daughter and works as an attorney. "Even though I'm out here in San Diego now, I still have my roots in SWFL. I was born and raised in Fort Myers/Naples and I visit several times a year. I still follow the team to a degree as well as the careers of guys like Chase and Sherwood who are still playing. Before Law School, I was involved with youth basketball but not so much these days. I'm a major basketball fan though and that's something that will never change."

---
Special Thanks!
I want to extend a special thank you to all those who participated in this article and also to those who could not. We love talking basketball and getting first-hand history lessons from these program builders has been a blast. Without your contributions on the court, it's safe to say that our fandoms wouldn't be where it is today and Screecher Report likely would not exist.
---
I.C.Y.M.I 👀
Check out our year-round coverage of FGCU Basketball through podcasts, articles, and active social media presence (Twitter, Instagram, Facebook, TikTok, YouTube, etc). Most recently we sat down with Brett Fritz to discuss this article. Podcasts available via Spotify, Apple Podcasts, Google Podcasts, YouTube, and via the "Podcast' page here at ScreecherReport.com. Stay tuned for coverage and content!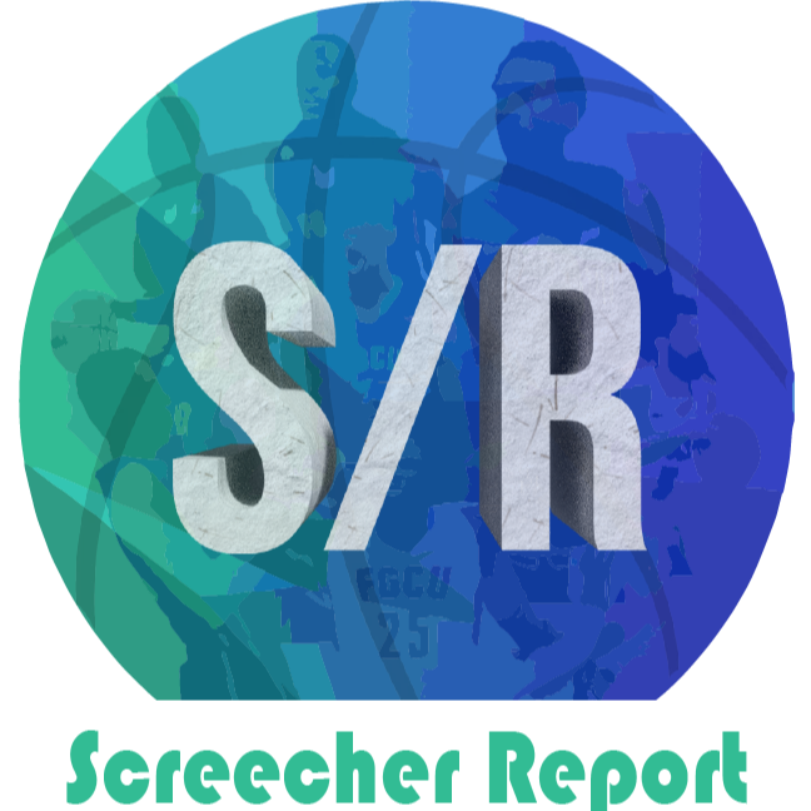 Ep. 56: FGCU Falls to UNA and Discussion of Recent Struggles
–
Screecher Report
Russell and Elliott are back and hoping to do their part to help the team during this rut that the Eagles have found themselves in. FGCU is 1-7 since the last S/R episode dropped so the fellas are looking for the tides to turn. They discuss the equally devastating and fun, OT loss to UNA, and the team's overall struggles. Listen in and tell your friends! Wings up and go Eagles!