In our 7th and final Player Preview, we caught up with junior guard, and captain, Caleb Catto. In case you missed the previous installments, or if you want to read up on the newcomers to FGCU Men's and Women's basketball, click the links below!
Caleb Catto returns to the Eagles after a breakout sophomore season. Last year he showed improvement early on and eventually established himself as the leader and the alpha on the team. Caleb finished last season as the only player to start all 32 games. In those games he averaged about 13 points, 4 rebounds and 3 assists while shooting 42% from the floor (34% from 3) and 82% from the charity stripe. In ASUN play, Caleb increased his average points per game to 15. He had 5 games of 20 or more points, all in conference play. Caleb spoke to us about his 2nd year jump.
"Freshman year was really tough. The biggest jump for me was on the mental side of things. I didn't have the most belief in myself before and I lacked confidence. Going into last year, I didn't know what to expect. As the season went on, [I saw] more shots go in. I just got more comfortable. I believed in myself and the work I put in. I learned how to keep basketball simple. As a player, you can overcomplicate things and think about certain things too much. As you mature, you just stick to a routine that you set and stay persistent. If things get tough, you just stay with what you know."

Caleb Catto
In his first 2 years at FGCU, Caleb has played a lot of basketball. Head Coach Michael Fly had this to say.
"It wasn't the plan [to play him so much early on]. Based on injuries and in order to have a chance to win, we needed him to play night to night. He made a big jump from his freshman year to sophomore year. He went from less than 4 points a game to 15 [in ASUN play]. At this point, with a guy like him, it's just fine tuning his skills. We did a little bit this summer with cleaning up some footwork and working on balance and follow through. With him, it's a lot about maintaining his body. He has played a lot of minutes in 2 years. He's a good athlete but he's not built like a truck. We have to be smart with him. He's a tough kid and he never wants to miss a rep. He wants to be a part of every leadership organization on campus. If anything, he's a guy you try to reign in a bit. What will really benefit him is that we have a lot of playmakers now. There were times last year where if he wasn't going for a minimum of 15 to 20 points, we just didn't have a chance to win. I don't think he will have to be in that position as much this year. I'm sure there will be times that he gets those numbers, but he's going to have to work a lot less to get good shots."

Michael Fly
Over an unprecedented summer, Caleb (like everyone else) had to find ways to stay in shape.
"I stayed in the gym. I was able to do some pick-up type stuff at my high school court. I worked out and stayed with my family. I was able to get in the gym with my dad (Coach Bill Catto) and work on some things that I want to improve on and add a little bit to my game as well."

Caleb Catto
Now, Caleb and the team have been back together for a couple months. For the first time in his FGCU career, the team he came back to has a lot of familiar faces.
"It was a blast getting to play with those guys last year. A big part of basketball is learning who you play with. Now we have a pretty good group coming back who have played together. We're a tight group with lots of room to improve. Now that we know how to play with each other, we just have to trust the process. So far things are going great. It's great to be back out on the court with all the guys. Everybody is meshing well and we're trying to build as much chemistry as possible with the time we have. We are just excited to get going. Playing ball is something we all love to do and are passionate about. Last year I was still learning. I am this year too but I feel like I'm now in a position to lead and teach and I'm excited about that."

Caleb Catto
With those familiar faces, the team also welcomes 6 newcomers who are in a position where they can learn and earn minutes, rather than be thrown into action due to lack of depth. These extra playmakers should be invaluable to Caleb as a leader on this team.
"There were times in the past where he had to play the point. He has some point guard skills but it's not his natural position. He's much better as a playmaker who can use those skills off the ball rather than having to bring it up against pressure. We expect him to lead our team on/off the floor. He is up there with the most prepared, hard-working, and high-character guys that I've ever coached. We're really excited about year 3 and 4 for him."

Michael Fly
Caleb has already made good impressions on his new teammates. Eli Abaev had this to say about him.
"Caleb is just a leader. He doesn't say much, he just leads by example. At first I thought he was just a serious guy all the time but he jokes around and has fun too. That's what makes a leader on and off the court. When we practice, we make the game a lot easier for each other. When we go against each other, it's war. We both don't want to lose to each other. This team wants to win and that starts with Caleb."

Eli Abaev
To stay up to date on all of our content (articles, podcasts, etc.) please follow us on social media! Also, if you've missed any of our summer series of podcasts, you can listen below or on all major streaming platforms!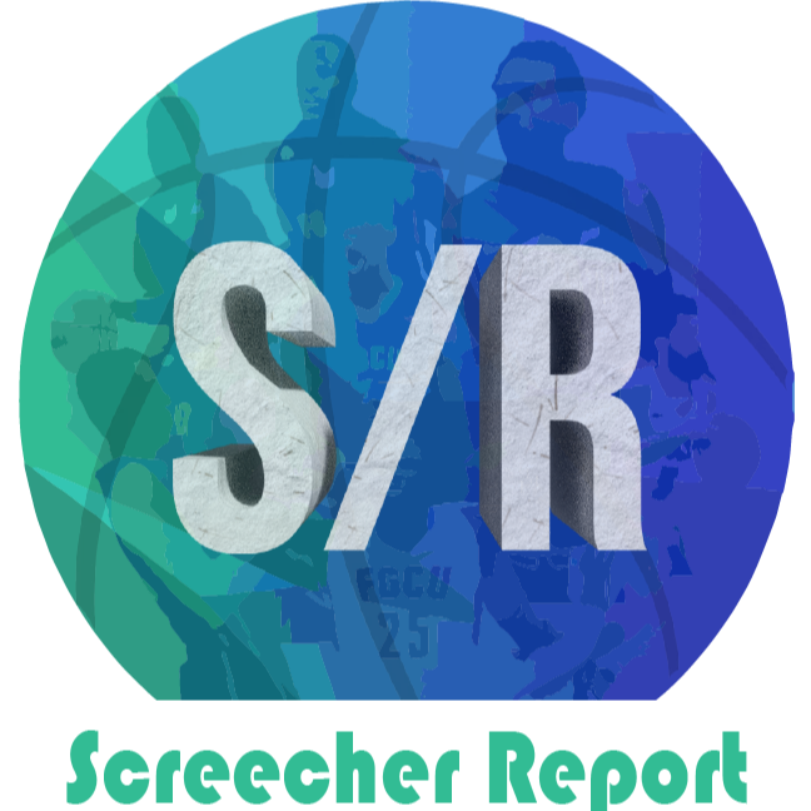 Ep. 56: FGCU Falls to UNA and Discussion of Recent Struggles
–
Screecher Report
Russell and Elliott are back and hoping to do their part to help the team during this rut that the Eagles have found themselves in. FGCU is 1-7 since the last S/R episode dropped so the fellas are looking for the tides to turn. They discuss the equally devastating and fun, OT loss to UNA, and the team's overall struggles. Listen in and tell your friends! Wings up and go Eagles!